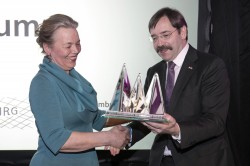 Prof. dr. Martine Bouman wins Marc Cornelissen | Brightlands Award
17 March 2017
Prof. dr. Martine Bouman has received the Marc Cornelissen | Brightlands Award 2017 out of the hands of jury chairperson Maria van der Hoeven and Governor Theo Bovens. The award recognizes prof. Bouman's work as a groundbreaking pioneer in the line of Marc Cornelissen, who advocated a more sustainable society by doing research expeditions in the polar region.

From the report of the jury: "We are extremely impressed with Martine Bouman's work. She has tapped into a theme that is extremely relevant for today's society and for future generations. Her mission is not yet complete, due in part to a society and media landscape that are subject to change. We were particularly taken with the originality of her approach to this complex set of problems. It is not possible to solve challenges such as these with even more technology. What is really necessary is knowledge and insight into people's behavior and social context, and mostly, how we can reach them. Martine Bouman has also had the courage to place a more or less secure academic career in the balance, and during her expedition, did not allow herself to be daunted by the philosophy of 'measurement is key'. Time after time, she managed to complete successful expeditions using a creative approach, making government and business aware of the fact that there are other means necessary to bridge this health gap in society. We would be thrilled if other initiatives in the field of sustainability and health could also benefit from her expertise. In short, Martine Bouman is working on a process that is bearing fruit, thanks in part to her innovative and daring approach. She shows that she will not quit before her mission is accomplished, and she is well on her way to moving bricks around in the proverbial foundation. She has managed to get a large group of followers with diverse backgrounds and expertise involved.

Final deliberation
Paramount in our decision about the Marc Cornelissen | Brightlands Award 2017 are the characteristics of the two godfathers of the award, Marc Cornelissen and Brightlands. In a society where technology is the driving force behind progress, the interest grows to make sure that investments have the intended societal effect. Not only with the happy few, but even more by involving those groups who are key in accepting innovations and implementing them for a better quality of our society. But how to do this in a community and communication landscape that is subject to such fast changes? Marc was a master at this, Brightlands still meets some challenges in this area. The nominees distinguish themselves in different ways. The jury has granted the Marc Cornelissen Brightlands Award 2017 to the person who, in our eyes, has taken the most daring, original and largest steps."

Other nominees for the award were Jan Jonker, professor in sustainability and winner of the prestigious 2016 Sustainability Medals, and Jeroen Rondeel, entrepreneur in sustainable initiatives and founder of the Blue Innovation Centre. In her words of thanks, Martine Bouman mentioned the resemblances that she discovered between her mission and the work of Marc Cornelissen, and thanked the family of Marc, who were present, for their commitment to establish this prize.

The award consists of a memento and a cash prize of € 25,000. Martine Bouman intends to spend the money to unite new players in the media landscape around themes like sustainability, health and social tolerance.
Back to news overview