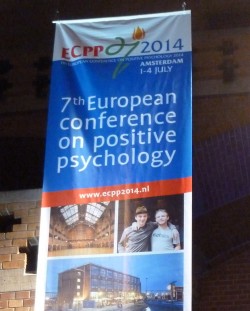 PD workshop - European Conference on Positive Psychology
07 July 2014
On July 2nd, Martine Bouman and Sarah Lubjuhn from the Center for Media & Health (CMH) presented the results of the Positive Deviance research project on mental resilience of students at VMBO schools at the European Conference on Positive Psychology. The workshop was titled "The Secret of the Positive Deviance Exception."

Based on theoretical notions and practice examples the CMH researchers discussed the design of the research, the results, and the challenges and prospects which they have experienced while applying the Positive Deviance strategy.

Martine Bouman: "We are happy to share our experiences with the Positive Deviance strategy today with other researchers from all over the world."

PD workshop participant: "What I heard during the presentation was mind-blowing. I am very happy to hear that this kind of approach exists and I want to learn more about it."

Click
here
to get more information about the European Conference on Positive Psychology.
Related projects
Back to news overview