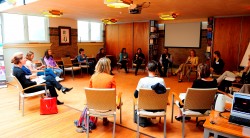 New CMH video impression of the Positive Deviance seminar
07 February 2013
The Center for Media & Health put together a video impression of the Positive Deviance (PD) seminar which was organized by the Center for Media & Health.
Positive Deviance is a new research approach which aims to identify the positive exceptions (positive deviant). Why is it that with similar access to recourses and a similar background to others, some individuals or communities excel against all expectations?
During this interactive seminar Arvind Singhal, professor at the University of Texas at El Paso and PD pioneer, presented the PD approach and various results of PD projects around the world. Dr. Martine Bouman, scientific director of the Center for Media & Health, presented the first PD project in the Netherlands. This project aims to utilize the Positive Deviance approach to enhance psychological resilience amongst adolescents vulnerable to depression and anxiety. This project from the Center for Media & Health is implemented in collaboration with the GGD Rotterdam Rijnmond, the Trimbos-Institute and the University of Texas in El Paso, USA.
The following clip gives short insights into the PD seminar. Various participants share their impressions and Lessons Learned.
Back to news overview