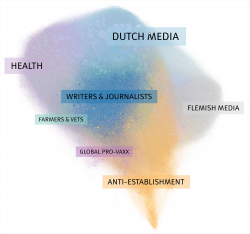 'Mapping the Dutch Vaccination Debate' published in Vaccine: X
16 April 2019
Vaccination rates in the Netherlands have slightly decreased in recent years. This decrease is often associated with all sorts of myths about vaccination that are circulating online. For the 'vaccination willingness committee', which was commissioned by the RIVM to investigate the social background of the decreased vaccination rate, the Media & Health Center has studied the Dutch vaccination debate on Twitter. The paper 'Mapping the Dutch Vaccination Debate on Twitter: Identifying Communities, Narratives, and Interactions' was published this month in the scientific journal Vaccine: X.
How we think about health topics does not only depend on what we read, hear and see about it in media, but it also depends on our how our peers talk about it. That is why we have analyzed the media behaviors and preferences of Twitter users in the context of the Dutch vaccination debate. In this way we have been able to distinguish different online communities that all approach the subject in their own way:
A health community with doctors, nurses, pharmacists and health organizations emphasizing the importance of vaccination.
An anti-establishment community that distrusts traditional institutions.
A community around well-known writers and journalists that actively discuss vaccination with the anti-establishment community as well as the health community.
The results show that the communities think and tweet differently about the subject. To reach the skeptics, it is important that health organizations disprove vaccination myths in an appealing and accessible way.
Back to news overview