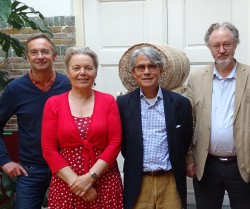 Report about vaccine hesitancy presented to the parliament
28 June 2018
June 24th, the RIVM (Dutch National Institute for Public Health and the Environment) presented a report on the decline of vaccination rates in the Netherlands. Martine Bouman from the Center for Media & Health was a member of the special advisory committee on vaccine hesitancy. From a social-scientific perspective, the committee studied the causes of the rise of vaccine hesitancy and advised the RIVM on possible solutions. The report 'In conversation about vaccination' was presented to the Dutch parliament.
Among other things, the report discusses the influence of social media. The Center for Media & Health used digital research methods to study how Dutch Twitter-users talk about vaccination. This study unveiled the existence of a closely-knit community of 'anti-vaxxers'. They distrust traditional institutes, making them unreceptive to traditional campaigns. Notably, health professionals that communicate accessibly – for example by using simple language or by collaborating with popular media – are more capable of reaching these skeptics.
This fall, the ministry of Health, Welfare, and Sports will decide on possible measures.
Prof. dr. Klasien Horstman, who is also member of the commission, is not present in the picture.
Back to news overview