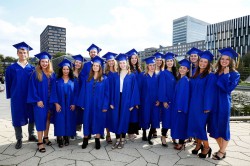 Graduation Ceremony MA students Media & Culture
20 September 2018
Wednesday September 19th the graduation ceremony took place of the MA students Media & Culture of the Erasmus School of History, Culture and Communication. Ashley Mikkers and Emmy Schoenmakers have done a media research within the MediaLab project of the Center for Media & Health.
Emmy describes in het MA thesis
Van deftige doktersjassen tot veilig vrijen
her research into the different approaches on health, illness and death in television programs on Dutch Public Broadcasting Channels. And Ashley reported in her MA thesis
Een onderzoek naar percepties rond orgaandonatie van online publiek
her investigation and analyses of twitter messages around the recent debate on a new donor registration system (from opt-in to opt-out). Both MA students received a laudation and their bull from their supervisor Prof. Martine Bouman.
Back to news overview