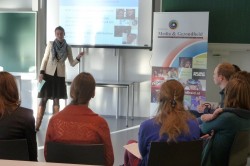 CMH Panel discussion about Storytelling at the Etmaal Conference 2014
07 February 2014
On February 3rd the CMH team (Martine Bouman, Hester Hollemans and Sarah Lubjuhn) conducted a panel session about "Storytelling for Social Change" at the Etmaal van de Communicatiewetenschap (24 Hours of Communication Sciences) held at Wageningen University.

The CMH team presented research data and audiovisual material of the interactive storytelling EE formats SndBites and UP2U, and the social media research project Mark My Words. Based on the three project examples Martine, Hester and Sarah gave insights into the theoretical notions of the Entertainment-Education formats and the collaboration processes with the creative industry.

Participant: "Very informative and interesting examples. I am keen to learn more about it".
Back to news overview