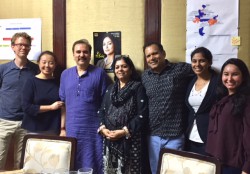 CMH involved in creation of India EE soap
04 October 2018
On behalf of the Center for Media & Health, PhD-student Roel Lutkenhaus spent the last week of September in New Delhi, India, to contribute to the digital strategy and evaluation plan for the upcoming season of the Entertainment-Education series 'Main Kuch Bhi Kar Sakti Hoon' ('I, a woman, can achieve everything').
The series is an initiative of the Population Foundation India and managed to reach almost 60 million people during its first and second season. The upcoming season focuses on sanitation and sexual health. The series' story revolves around Sneha, a young and successful female doctor who returns to her native village to help her family.  
Roel has contributed ideas on how to implement storytelling strategies on different (online) channels, ultimately supporting the series' goals. After the launch of the series, he will research how online audiences will talk about the series and its associated health topics.
Back to news overview