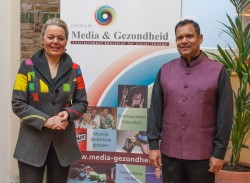 Arvind Singhal compliments CMH for their systematic approach Positive Deviance Project
10 February 2014
From February 6th to 8th Dr. Arvind Singhal of the University of Texas at El Paso (USA) visited the Center for Media & Health to discuss the first results of their Positive Deviance (PD) project on mental resilience.
"This PD project of the Center for Media & Health is a historic PD project. Not only for The Netherlands. There is no other PD project in the world that I know of that has been carried out in the last 25 years with this kind of systematic approach,"says Dr. Singhal.
The-research question for this PD project was: Are there VMBO-B and VMBO-T schools in Rotterdam
which have more than 120 students,
which have more than 50% students with a migrant background,
which are situated in a deprived neighborhood,
which are not part of the healthy schools program or have access to other special resources,
and which are highly mentally resilient (i.e. score of 10 or less on the SDQ questionnaire of the Youth Monitor)?
Three PD schools were found which fulfill the criteria. Together with the schools uncommon but effective institutional and individual practices 'microbehaviors' are identified, which make a positive difference. This project is implemented by the CMH in collaboration with the GGD Rotterdam-Rijnmond, the Trimbos Institute and the University of Texas at El Paso.
Related projects
Back to news overview