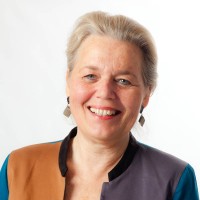 Prof. Dr. Martine Bouman
Scientific Director
Martine Bouman (PhD) is the Scientific Director and Founder of the Center for Media & Health in Gouda, the Netherlands and holds the Special Chair Entertainment Media and Social Change at the Erasmus University Rotterdam, Erasmus Research Centre for Media, Communication and Culture (ERMeCC), the Netherlands.

Martine Bouman has been a pioneer in the field of the Entertainment-Education (EE) strategy since 1985.
She introduced the concept of Entertainment-Education in the Netherlands and laid the foundation for the further growth and expansion of the Dutch Entertainment-Education approach. She collaborated with entertainment media professionals in television programs such as Way of Life, Medisch Centrum West, Villa Borghese and Costa.
In 1999 she published her groundbreaking research into the dynamics of EE-collaborative partnerships in her book called 'The Turtle and the Peacock'; the Entertainment-Education on television: collaboration for social change (
click here
), which was nominated for the ICA dissertation award in 2000. In 2000 she was CEO of the 3rd international Entertainment-Education Event, the first international EE-conference held outside the USA. Dr. Bouman initiated a large teaching project to train students and professionals (both in media management and in health communication) to become skilled EE professionals and to create an Entertainment-Education community. She is author of several articles and publications about Entertainment-Education and an honorary member of the Dutch Society for Health Promotion and Prevention. Martine Bouman is experienced in designing, developing, researching and conducting many innovative EE- interventions on television and in new media. She has been the first chair of the Program Committee Lifestyle Campaigns (2002-2007) of the Dutch Health Research Council (ZonMw). In 2010 she received the Everett M. Rogers life time achievement award in Entertainment-Education. As an Entertainment-Education scholar and consultant she contributes to western and non-​western EE-projects around the world. She gives guest lectures at the Faculty of Behavioral Sciences of the University of Twente and at various other universities in the Netherlands and worldwide.
Click here
to download selected publications of Martine Bouman.
Back to overview