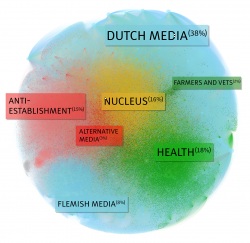 'Tailoring in the Digital Age' published in Digital Health
30 January 2019
Studies show that 'tailoring' – matching content to the knowledge and perceptions of the target audiences –can contributes to behavioral change. However, we live in a time where we are overwhelmed with content and the algorithms of platforms like Facebook and Twitter largely determine who sees which content. How can health communicators adapt? The Center for Media & Health addresses this question in the article 'Tailoring in the Digital Era' that was recentlypublished in the scientific journal Digital Health.
In the article, authors
Roel Lutkenhaus
and
Martine Bouman
from the Center for Media & Health and
Jeroen Jansz
from the Erasmus University suggest that collaborations with social influencers may burst filter bubbles and result in personally-relevant communication. In addition, social influencers can create social momentum, enabling media to spread widely.
Not every influencer is a suitable collaboration partner, however. The Center for Media & Health has therefore developed a data driven methodology to identify online communities among the target audiences, understand how these communities talk about health topics, and identify influencers that make suitable collaboration partners.
The article '
Tailoring in the Digital Era: Stimulating Dialogues on Health Topics in Collaboration with Social Media Influencers
' is published under an open access license and is available to everybody on the website of Digital Health.
Wonderful paper w/ practical, research-based suggestion to combat medication misinformation. @SteveJoffe & I suggested using social media influencers in our STAT piece, but this goes many steps further. *This* is the kind of creative thinking we need! https://t.co/jrHPNBA90k

— Anna Wexler (@anna_wexler) June 19, 2019
Back to news overview