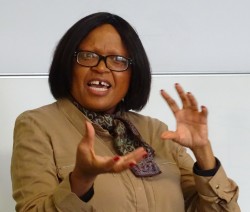 Start of the Seminar Series "Entertainment Media & Social Change" at the Erasmus University
12 April 2016
On April 5th the seminar series "Entertainment Media & Social Change" of Prof. Martine Bouman started at the Erasmus University in Rotterdam. The seminar series is offered to students from the International Bachelor Communication and Media at the Erasmus School of History, Culture and Communication. Students from 14 different countries participate in this seminar.

The 8 weeks series adresses various theories, media formats and research methods in the field of Entertainment-Education (EE). The students will work in small groups to develop an EE intervention plan on a pressing social change issue (such as the refugee crisis).

During the first seminar Lebo Ramafoko, CEO and Director of the Soul City Institute for Health and Development Communication, gave a guest lecture. Lebo presented how Soul City applies the Entertainment-Education strategy to initiate social change processes on healthy lifestyle topics in South Africa.
Lebo Ramafoko: "Thank you so much. It was great giving the lecture and reconnecting with you."
Related projects
Back to news overview