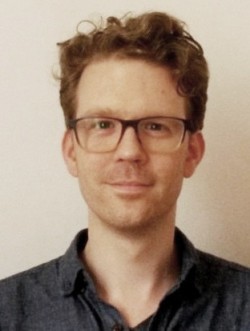 Roel Lutkenhaus starts as PhD candidate for MediaLab
10 May 2016
On Friday the 1st of April Roel Lutkenhaus started as a PhD candidate at the Center for Media & Health's Medialab. MediaLab is a collaboration project between the Dutch Kidney Foundation, Heart Foundation and Alzheimer Netherlands and focuses on researching Entertainment-Education (EE) strategies aimed at vulnerable groups to close the large health gap within the Dutch society.
At the Center for Media & Health as well as the Erasmus University Rotterdam, Roel will research the effects of interactive storytelling formats in Entertainment-Education on health-related behaviour and will mainly focus on new formats, strategies, and technologies. His work is supervised by Prof. Bouman (scientific director at the Center for Media & Health and holder of a Special Chair Entertainment Media and Social Change at the Erasmus University Rotterdam) and Prof. Jeroen Jansz (Communications and Media Professor at the Erasmus University Rotterdam).
Roel acquired his bachelor's 'Applied Arts & Technology' in 2007 where he graduated on crossmedia formats within printmedia organisations. He worked as a journalist for a few years before acquiring his master's 'Communication Studies' in 2010. Over the last few years, Roel has worked as a content strategist and developed innovative methods to carry out audience research using open data.
Related projects
Back to news overview