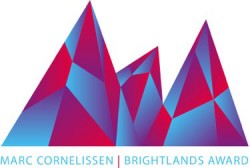 Prof. dr. Martine Bouman nominated for the Marc Cornelissen | Brightland Award
03 March 2017
Prof. dr. Martine Bouman has been nominated for the Marc Cornelissen | Brightlands Award 2017.
The Marc Cornelissen | Brightlands Award is awarded to candidates who distinguish themselves in the spirit of Marc in their collaborative leadership as well in collaboration across borders to make our world more sustainable.
The award is an initiative of the Foundation Marc Cornelissen Brightlands Award. The award consists of a memento and a cash prize of € 25,000. The amount is to be spent on the activities identified by the candidate at the nomination. The Brightlands Symposium takes place on Thursday 16 March at MECC Maastricht, where the winner of the award will be announced.
Marc Cornelissen | Brightlands Award
Thinking, dreaming, daring and doing, across geographical, scientific and organizational boundaries, this was Marc Cornelissen until his unexpected death in 2015. As a professional adventurer he had one passion, creating a sustainable world. Therefore he dared to choose other pathways than the usual ones. This attitude and spirit is also the basis of which Brightlands scientists, students, entrepreneurs, professionals work together and connect across boundaries, to the great challenges of sustainability and health. His ideas, courage, enterprise and impact is praised by international top scientists, opinion leaders and entrepreneurs. They say, "let's keep his work and spirit alive". With the introduction of the Marc Cornelissen | Brightlands Award, Brightlands contributes to his great heritage.
For more information about the award:
http://www.marccornelissen.com/brightlands-award
Back to news overview