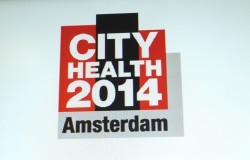 Positive Deviance presentation: city health conference in Amsterdam
06 November 2014
On November 4th Martine Bouman from the Center for Media & Health (CMH) presented the Positive Deviance (PD) project at the "International City Health Conference 2014 – Engaging diverse communities in urban health and well-being" in Amsterdam.

The International City Health Conference is hosted by AIDS Foundation East-West (AFEW) and the Trimbos Institute and organized by Knowledge•Action•Change. The aim of the conference is to examine (1) how cities around the globe respond to changing populations and (2) how they ensure and promote health and wellbeing amongst diverse groups and cultures.

During the presentation, Martine Bouman gave insights into the Positive Deviance strategy. She explained how the CMH team and partners sought to identify positive deviance practices that enhance psychological resilience among students of Rotterdam's VMBO schools who hailed from lower socio-economic backgrounds and minority immigrant groups.

"The PD research project focuses on PD behaviors at the institutional level (PD schools) and the individual level (PD micro behaviors of individual actors e.g. teachers, counsellors, students, parents, etc). We use the term 'micro behavior' as in PD it is not uncommon to find that small behaviors at the individual level usually make a big difference at the institutional level. Usually, these behaviors can be adopted without access to any specific extra resources," says Bouman.
Based on theoretical notions and practice examples Bouman discussed the design of the research and the results, challenges and chances which the CMH team and partners have experienced while applying the Positive Deviance strategy.
Click
here
for a summary of the PD project.
Back to news overview