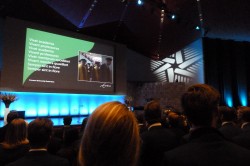 Opening of the Academic Year of Erasmus University Rotterdam
08 September 2015
On Monday 31 August 2015 Prof. Dr. Bouman attended the Opening of the Academic Year of Erasmus University Rotterdam. She met various members of the Erasmus School of History, Culture and Communication.
During the Opening of the Academic Year Beatrice de Graaf, Professor History of International Relations & Global Governance at Utrecht University and Chair of the Dutch Science Agenda ('Nationale Wetenschapsagenda'), held a plea for more balance between the utilitarian 'goose model' and the Humboldtian '
Bildung
model' in academics.
President of the Executive Board Pauline van der Meer Mohr talked about investing in the future of the university, and rector Magnificus Professor Huibert Pols stressed the importance of crossing boundaries: internationally, nationally and within the walls of the university.
Click
here
to see more pictures of the Opening.
Back to news overview