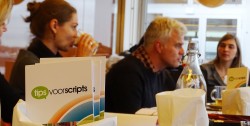 New Tips for Scripts lunch planned
18 November 2015
Since 2014 CMH has organized Tips for Scripts lunches in Amsterdam. During these lunches scriptwriters, producers and other creative media professionals meet with content matter specialists from various health organizations.
These content experts share compelling stories about their experiences in areas such as heart disease, cancer, infectious diseases, and stuttering. Stories that can be a great source of inspiration for scriptwriters and other media professionals.
On December 1
st
, a new
Tips for Scripts
lunch will take place. This time, content experts from three partnering health organizations will exchange with media professionals about the following topics: sex and seniors (Rutgers), psychological health (Trimbos Institute) and diabetes (Diabetes Foundation).
The lunch on December 1
st
is organized by the Center for Media & Health, Network Scriptwriters and Scriptbank. The lunch event takes place in Dutch language. For more information about
Tips for Scripts
and the lunches please contact the Center for Media & Health via:
info@media-health.nl
or via 0031-182-549445.
Tips for Scripts Lunch February 2015 (English subtitles) from Center for Media & Health on Vimeo.

Related projects
Back to news overview