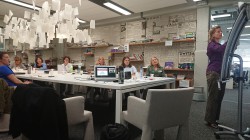 Introduction to Positive Deviance strategy for Public Health researchers
17 September 2018
​On Thursday, Sept. 6th , the Center for Media & Health provided an in-company training on the Positive Deviance method for Public Health Services in the South of the Netherlands.
A group of 11 researchers were trained in the basic principles of the
Positive Deviance
method; an innovative research method to identify people who have found against all odds better solutions for problems than others in the same circumstances. In the morning the participants were shown inspiring (inter)national examples, and in the afternoon the participants formed groups to work on their own Positive Deviance plans. The themes and issues of the group focused on the reduction of obesity in deprived neighborhoods, the prevention among lonely elderly of falling and the optimization of the availability of fire brigades.
"
It is a complete new way of thinking and looking at my data. I really want to introduce this new concept in my team
" (participant)
Back to news overview