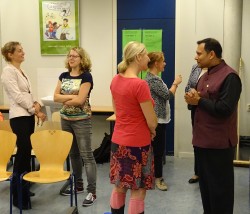 Final meeting for Positive Deviance project
20 October 2014
On Friday, October 3rd, the final meeting of the Positive Deviance project took place at Lucia Petrus Mavo in Rotterdam. During this project, CMH and its collaboration partners (GGD Rotterdam-Rijnmond, the Trimbos Institute and University Texas at El Paso) researched the mental resilience of students at VMBO-schools in Rotterdam. For the research, the innovative method 'Positive Deviance' was applied.

The 52 VMBO schools and other stakeholders from the Rotterdam region were invited for the final meeting titled "Hoe bevorder ik de mentale gezondheid van mijn leerlingen?" ("How do I improve the mental resilience of my students?").

During the meeting the "microbehaviors" found during the Positive Deviance project were presented. These 'micro behaviors' play a role in enhancing the mental resilience of students.
At the end of the meeting the CMH team and their partner Dr. Arvind Singhal of University of Texas at El Paso offered the representatives of the three PD schools (Lucia Petrus Mavo, Mavo Delfshaven and Libanon Lyceum) the final report including the most important micro behaviors.

"There were some very good examples of positive behaviors that you can easily implement in your daily life at school." Participant of a VMBO school.

"This was the first time this 'Positive Deviance' method was used in the Netherlands. This new approach offers people a new perspective on social problems and how to solve them." Dr. Martine Bouman, Center for Media & Health.
There is a 10-page English summary of the PD project available. Please
click
here to view the document.
Group photo (from left to right): Paul Bokern, Martine Bouman, Betty van der Winden, Arvind Singhal, Matthieu Lapré, Sarah Lubjuhn.
Back to news overview