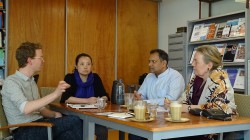 ​Evaluation of Indian EE soap with prof. Dr. Singhal and dr. Wang
13 May 2019
From 9 to 11 May, Prof. dr. Dr. Arvind Singhal and Dr. Hua Wang visited the Center for Media & Health to discuss the progress of our collaborative research about the Indian Entertainment-Education series Main Kuch Bhi Kar Sakti Hoon.
Main Kuch Bhi Kar Sakti Hoon
('I, a woman, can achieve anything') focuses, among other things, on improving the position of girls and women in rural India. The series is an initiative of the Population Foundation India and reached nearly 60 million people during the first and second season. The series revolves around Sneha, a young female doctor who returns to her native village to help her family, highlighting issues such as sexual health and sanitary and hygiene in the third season.
Prof. Dr.
Singhal
leads the research team and Dr.
Wang
from the University of Buffalo examines how perceptions around these themes change as a result of the TV series with the innovative Galileo method. Roel Lutkenhaus from the Center for Media & Health monitors how conversations about these topics change and feeds the online editing team insights and ideas to gain social momentum.
Back to news overview