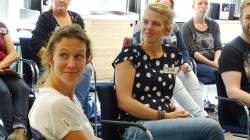 Entertainment-Education NSPOH Summerschool
03 September 2015
On August 28th 2015 Martine Bouman gave a lecture at the Netherlands School of Public & Occupational Health (NSPOH) summerschool. The title of her lecture was "The power of storytelling: Entertainment-Education and healthy lifestyles".
Based on various CMH projects (e.g. Tips for Scripts, Positive Deviance) Martine discussed the following questions:
Which roles do Entertainment-Education (EE), storytelling and new media play in reaching people from lower socio economic status? Which theoretical notions can be applied in Entertainment-Education? How do health professionals, media professionals and researchers collaborate in an EE intervention?
During the lecture various interactive methods (Liberating Structures) were applied such as Speed Networking and Fishbowl.
Related projects
Back to news overview