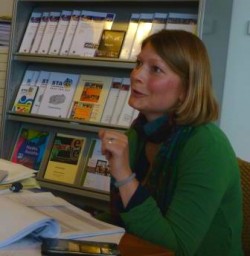 EE teaching modules: presentations of the Stenden students
01 July 2013
On June 27th 2013 the students of the Applied University of Stenden (Leeuwarden), study programme Media and Entertainment Management, presented their Entertainment-Education (EE) intervention designs to their "clients" at the Center for Media & Health in Gouda. It has been the 9th rerun of the EE module at the Applied University of Stenden.
The final assignment of the EE teaching module consists of writing an EE intervention plan for a client.
This year's clients were: Dutch Stuttering Foundation, Dutch STD foundation, the Dutch national foundation for hearing prevention, Health Municipality Amsterdam, Dutch Nutrition Center and the international client Initiative for Sustainability.
In seven presentations, students showed their creative and audiovisual vision on a prosocial theme and received feedback from their clients.
Hester Hollemans, client CMG: "Each year the students manage to surprise us again with very special intervention plans."
Back to news overview