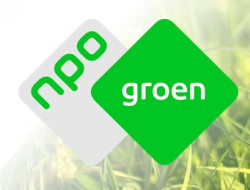 Dutch Public Broadcasting Service goes green
07 October 2015
On October 1st, the Center for Media & Health (CMH) was invited to give a presentation at NPO Green. NPO is the Public Broadcasting Service in the Netherlands. With the initiative NPO Green the Public Broadcasting Service aims to foster a sustainable development in the Netherlands.

When is a media program sustainable and which criteria can measure the sustainability of a program? These questions play a role when creating information programs, but also entertainment programs can have an added value for society. During her presentation "Mirrors or Movers? Behavior change and the media" Martine Bouman addressed the ecological footprint (e.g. recourse efficiency during production) as well as the 'brain-print' of a program.
"It is important that sustainability becomes a part of the DNA of broadcasting stations. This goes far beyond making a program about a sustainable topic. The media determine for a great part what and how people talk about issues. This is an opportunity to address topics for a healthier and more sustainable society" says Martine Bouman.
Back to news overview