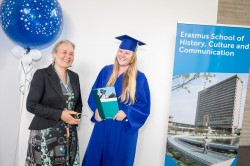 Congratulations! CMH masterstudents graduated
08 December 2017
Master students Roos van der Markt and Anoek van der Riet, who have been supervised by Martine Bouman, have successfully completed their master's studies.
Both students studied at the Erasmus University in Rotterdam. The CMH congratulates them with their achieved results and wishes them all the best for the future.
Roos van der Markt has researched the use and perception of female users of Dutch food blogs.
Anoek van der Riet has researched health communication in the Dutch hospital series 'Centraal Medisch Centrum'. Her focus was on the collaboration of the creative team with health professionals and the appreciation of the health information given in the series by these health professionals and viewers.
Back to news overview