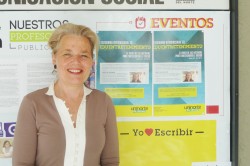 Collaboration with Universidad del Norte Colombia
03 July 2014
From July 23-29 Martine Bouman, scientific director of the Center for Media & Health (CMH), visited the Universidad del Norte in Baranquilla, Colombia.

She gave a three-day seminar about Entertainment-Education for Social Change. Themes of her presentations were: "New research methods in Entertainment-Education," "From Multimedia, to Cross and Transmedia," and "Collaboration with Media Professionals." The theoretical notions were discussed through various examples of CMH projects such as SndBites, Sound Effects, UP2U and Mark My Words.
Jesús Arroyave, Ph. D. Director Departamento de Comunicación Social Universidad del Norte: "It was great to have you here again. The seminar was really good and we had the chance to explore new venues for our collaboration. I will keep in mind all the ideas that we discuss to make sure we enhance our collaboration".
During the visit the partners also discussed an in-depth collaboration between CMH and the Universidad del Norte in research, teaching and the development of new EE interventions in Colombia.
Click
here
to read the Universidad del Norte news item about Martine's visit (in Spanish).
Click
here
to read a Colombian newspaper article about Martine's visit (in Spanish).
Back to news overview