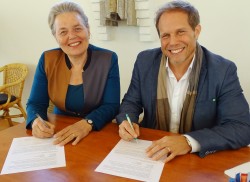 Collaboration started with Germany on sustainable lifestyles
29 October 2015
The Center for Media & Health is collaboration partner in the German project ILoNa. ILoNa is the German abbreviation for 'innovative logistics for sustainable lifestyles'.

In this research project the CMH will analyze target group orientated lifestyle patterns (incl. media preferences, knowledge and values) and will develop target group orientated communication scenarios to stimulate a sustainable lifestyle in logistics (working package 3.2). The central research question of the IloNa project is how sustainable processes (e.g. order and delivery of online products) can be increasingly stimulated amongst consumers and suppliers.

The project is funded by the German Federal Ministry of Education and Research, Framework Program Research for Sustainable Development: Sustainable Economy. The ILoNa project is managed by the Centre for Logistics and Traffic at the University of Duisburg-Essen.
On September 25, Klaus Krumme and Ani Melkonyan of the Centre for Logistics and Traffic visited the Center for Media & Health to discuss the design and implementation of the CMH working package.

Photo (f.l.t.r.): Klaus Krumme, Martine Bouman, Ani Melkonyan and Sarah Lubjuhn.
Back to news overview