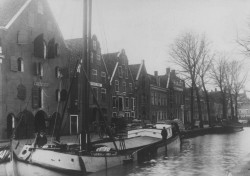 CMH starts storytelling project with skippers
05 June 2015
The Center for Media & Health starts with a storytelling project in which the stories of former skippers from Gouda and surrounding areas play a central role. The project is i.a. funded by a subsidy of Rabobank Fonds Gouwestreek and in cooperation with the Museumhaven Gouda [Museum harbor Gouda].

In this project called 'Het water blijft trekken' [The water stays appealing, working title] former skippers are interviewed about how the investment in a new ship influenced their entrepreneurship, what the consequences were for the family rolls and the social relationships. The inspiring stories about their entrepreneurship and extremely independent profession in, for the family, special conditions are told. The video clips and photographs that are made during the interviews will be used for a series of portraits, which will be exhibited in a surprising, audio-visual social mediaapplication in the Museum harbor Gouda. This installation will be appealing to an audience of all ages and be part of the 25th jubilee of Museum harbor Gouda.

For centuries, Gouda was the most important transit port of Holland and fulfilled a unique position within Dutch inland shipping. Shipping was always an important factor for the regional economy. However, in the course of the last century shipping has changed. The number of boatmen and -women who lived in this time drastically declined. And with them, their stories. These lifestories will now be preserved and shared with a large audience.
Back to news overview