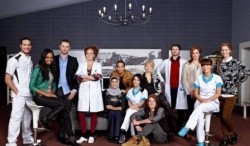 CMH shares her expertise in new series 'Malaika'
26 March 2013
Monday March 25th the first episode of the new daily series Malaika was aired. The series is broadcasted daily by RTL 5 at 19:00 p.m.. Malaika is about everyday adventures and romances of young people who work in the health care sector. It is produced by Bing Film in association with Johan Nijenhuis, with funding from different organizations in the health care sector.
The series portrays a group of young interns who work within a health care organization called Malaika (which means 'angel' in Swahili). They work together with experienced colleagues whose work, private life and relationships are also followed. The series aims to contribute to a societal discussion about various health care questions, and potentials and challenges of working in the health care sector.
The CMH advised Bing Film and Johan Nijenhuis in the collaboration process with various partners and designed a 'value grid', which summarizes the main goals and values of the series as the basis for the script development.
More information about Malaika can be found at: http://www.rtl.nl/soaps/malaika/home/
Back to news overview