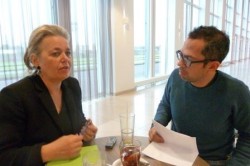 CMH interviews head scriptwriter Martin van Steijn (Endemol) for Mark My Words
06 December 2013
On November 19th, Martine Bouman and Sarah Lubjuhn interviewed Martin van Steijn, Head Scriptwriter of the popular Dutch soapseries "Good Times, Bad Times" (GTBT). They talked about the design and background of a cocaine addiction storyline (of Sjoerd) and a brain damage storyline (of Tim). These two storylines play a central role in CMH's most recent research project "Mark My Words".

The Center for Media & Health (CMH) in collaboration with the University of Twente developed a methodology called Mark My Words (MMW) to detect and monitor interpersonal conversations on social media. The MMW methodology is based on the concept of "markers". Markers are unique words, expressions or slogans. The scriptwriters of GTBT have developed special markers in the two GTBT storylines of Sjoerd and Tim. These markers serve as a kind of GPS system to trace back the conversations via social media. The data (online conversations) for MMW are gathered through a Social Media Monitoring Tool via Facebook, Twitter and other Social Media. At the moment the Center for Media & Health is analyzing the data. The final results of the Mark My Words project will be available on the CMH website spring 2014.
For more background information on the Mark My Words research project, click here to read the article of Bouman, Drossaert and Pieterse (in Journal for Human Technology).
Back to news overview