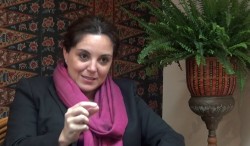 CMH interview with Lucía Durá about Liberating Structures
15 August 2013
In June 2013 the Center for Media & Health (CMH) interviewed Dr. Lucía Durá during her stay in Gouda. Dr. Lucía Durá is Assistant Professor at the Department of Rhetoric & Writing, at the University of Texas at El Paso. In the interview Lucía talks about Liberating Structures (www.liberatingstructures.com). The interview is available via the CMH vimeo channel.
Liberating Structures (LS) represent an alternative approach for group interactions focusing on how people can live and work together in better ways. LS is an interactive and participative approach, in which all group or community members (not only the leaders and experts) are involved in generating new ideas and to find solutions to various problems.
Lucía Durá: "Liberating Structures are meant to engage everybody at the same time. They enable creativity and productivity."
The CMH applies Liberating Structures in her Positive Deviance (PD) project.
Watch the Liberating Structures clip on the CMH vimeo channel (http://vimeo.com/72269998):


Back to news overview