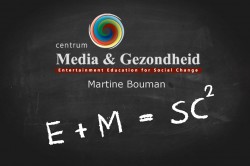 CMH gives a TED Talk April 3rd at TEDxAmsterdamChange
29 March 2013
Dr. Martine Bouman, scientific director of the Center for Media & Health and Entertainment-Education expert is invited to give a 10 minutes TED Talk presentation at TEDxAmsterdamChange. Starting at 5pm there will be a satellite event at Pakhuis de Zwijger in Amsterdam where the audience can follow the international TEDxChange event live taking place in Seattle. The overall theme is Positive Disruption, related to unique and new partnerships to attain the Millennium Development Goals. Martine will give the audience a TED Talk about 'Challenging and Rewarding Partnerships'
TEDxChange is a TEDx event co-organized by the Bill & Melinda Gates Foundation and TED focussing on issues surrounding global health and development. TEDxChange type events are TEDx events hosted around the live webcast of TEDxChange, and also feature local speakers.
Following the livestream the audience will get the opportunity to get up close and personal with a few interesting national and international projects, helping them to reach the next level of their projects. Followed by a panel discussion hosted by television journalist Marcia Luyten.
Dr. Martine Bouman, scientific director of the Center for Media & Health and Entertainment-Education expert is invited to give a 10 minutes TED Talk presentation at TEDxAmsterdamChange.
Back to news overview