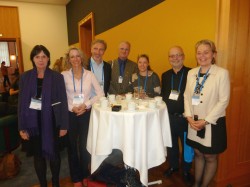 CMH contributes to workshop at WHO World Health Summit
25 October 2013
From October 20-22 the WHO World Health Summit has taken place in Berlin. The vision of the World health Summit is improved health worldwide, catalyzed through collaboration and open dialogue, setting tomorrow's agenda for improved research, education, health care and policy outcomes.
Martine Bouman has been invited to share the CMH's unique Entertainment-Education approach. The workshop "Communication and inter-disciplinary media strategies in health promotion" is organized by the WHO Europe and the German Federal Centre for Health Education (BzgA). The workshop was chaired by Wolfgang Müller (prevention expert). Other panelist were Elisabeth Pott (BzgA), Claudia Stein (WHO Europe), Alfred Uhl (Anton-Proksch-Institute, Austria) and Stefan Ludwigs (University of Applied Science Köln, Duitsland).
Click here for the official WHO program of the World Health Summit and more information about the workshop in which the CMH participated (p. 57-58).
Back to news overview