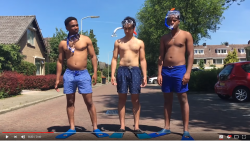 A YouTube campaign about water safety
13 August 2018
SafetyNL – a Dutch organization that aims to reduce accidents in the Netherlands – has developed a YouTube campaign to increase awareness around water safety among young immigrants. Research has shown that youngsters that did not grow up in the Netherlands are less familiar with the Dutch water- and swim culture, have lower swimming skills, and are thus exposed to a higher risk of drowning.
Following the Center for Media and Health's advice, SafetyNL chose to ask newcomers to create their own videos about water safety. Yasir from Somalia, Muayad from Syria and Robiel from Eritrea are starring in '
Yassir Hierrr
', a YouTube mini-series showing the group's adventures in along the canals, rivers, lakes, and swimming pools of the Netherlands.
"Thank you CMH for thinking with us!"
(- Employee SafetyNL)
Back to news overview